Top 5 Most Expensive Smart Home Devices That Are Actually Useful
Updated on 29th Sep 2020 01:42 in General, Smart
Usually, when looking for smart devices, we look for the best bang for the buck deal available. It isn't unusual to find options that cost anywhere in the range of 10$ - 100$, depending on what kind of device it is. However, this is a list of some of the most expensive smart home devices that are available right now, along with a few reasons you might actually consider getting them.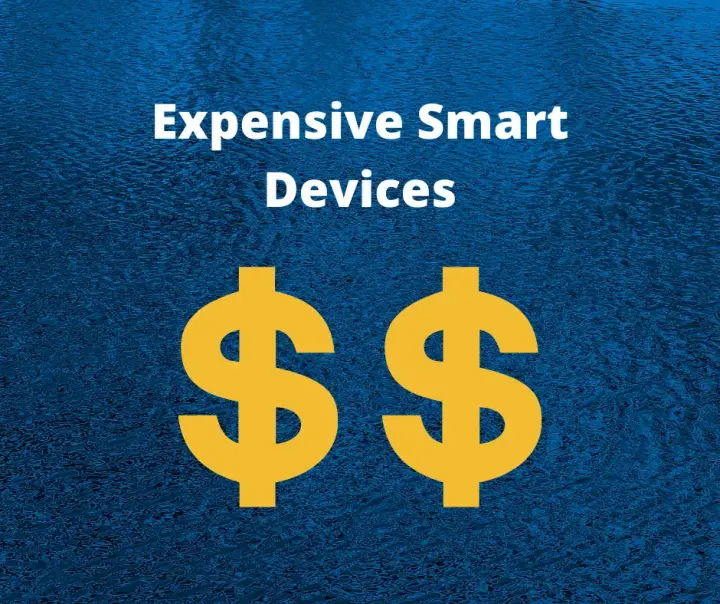 Disclaimer: This post contains affiliate links. As an Amazon Associate, I earn from qualifying purchases.
Table of Contents
Breville-Nespresso Espresso & Coffee Maker
As many already know, coffee machines - especially espresso machines - can be costly. In fact, it is quite common for these to sell for a couple of thousand dollars apiece. That said, there is a relatively limited selection of "smart" coffee machines, and so this one is not nearly as expensive as some of the fully automatic espresso models out there. It is still an excellent machine, and it offers a lot of exciting features for its price. 
It can make both single-serve coffee and espresso, allowing it to be a one-stop-shop for your at-home coffee needs. Unfortunately, the machine does use the special Nespresso cups which are not the same as other "cup" style machines. The kit contains a sampler set of cups that come with the purchase of the device, but more of these cups will need to be purchased once they are used. It is undoubtedly more expensive when compared to beans, but the convenience of pre-packaged cups is certainly worth considering!
When it comes to smart capabilities, this machine features a Bluetooth connection to smartphones using the Nespresso app. The app allows users to schedule the next brew time, choose settings, order more capsules, and manage machine maintenance. Although Bluetooth is undoubtedly a welcome addition to an otherwise regular appliance, it is far from the most versatile communication protocol. It does means that there is a relatively small range limit with this device. Some machines sport WiFi connections, but they seem to mostly be on much cheaper models that compromise the coffee quality.
Browse this machine on Amazon here!
Worx WR153 Landroid L Robotic Lawn Mower
A robotic lawnmower, wow! How nice would it be to be able to relax on a hot summer day while the lawn stays at the right length all by its self? Pretty neat, and this robotic lawnmower is the solution to that problem. As you might expect, the price matches the kind of equipment it is and the potentially massive time-saving benefits. That said, this machine delivers some pretty nifty features for the price point. 
It can cut up to 1/2 an acre of grass, supports a GPS module that allows you to find it should it wander off or be stolen, and can be controlled over WiFi using the app. The GPS unit is a great benefit to having peace of mind that the money you spent on this robot doesn't get thrown away. Since the device uses WiFi as a communication protocol, it is possible for the robot to usually head into a direction that is out of range. To remedy this, the mower offers a radio module that extends the range of the WiFi network.
The top of the unit has a rain sensor allowing the mower to understand that it should return to its home hub to avoid damaging the machine and to only cut the grass dry. The manufacturer specifies that the mower's body is resistant to rain, so if it does get a little wet, it won't be the end of the world. Navigating the yard is done via an included fence that will be placed on the boundaries of the mowing area, allowing the robot to always stay clear of any flowers or other no-go spots. 
Browse the robotic lawnmower on Amazon here!
LG Smart Window Air Conditioner
This air conditioner from LG is rated at 8000 BTU and connects to your WiFi network to allow full control remotely. It also includes Alexa and Google Assistant integration which makes it really easy to change any parameter such as the temperature or fan speed just by asking. We have a full DIY guide for building a cheap device that will allow you to control IR ACs over a WiFi connection, but it is certainly a lot easier if the feature is built into the machine. Do keep in mind that the DIY version does not directly work with Alexa or Google Assistant, but does work entirely offline.
Unlike many of the other items on this list, the LG air conditioner doesn't seem to have any significant markup due to its smart nature as other comparable non-smart devices are priced similarly. Considering this and the fact that the hassle of dealing with a unit that does not feature any network connectivity is pretty high, this machine is a pretty good deal. Its estimated cooling area is 340 square feet which is more than enough for a single room but might be on the low side for a larger open space.
A final point to consider is that this is a window style unit which has several specific installation requirements. One of these is that the window is a vertically closing type such that the unit can be wedged between the frame and the sliding part. If you are like me, your window may open on a hinge outwards in which case a unit like this will, unfortunately, be totally useless. In that situation, the only real options are to get a central AC or to purchase a "portable" style. The latter usually features a tube that must be vented outside to allow the hot exhaust air to escape.
Browse the LG Smart Window Air Conditioner on Amazon here!
LG Short Throw Laser Projector
Another LG feature on this list, no most expensive list would be complete without a trip to projector land. This is a serious projector for serious situations, with a 4K resolution at up to 2500 lumens of brightness and a short-throw range allowing the projector to be placed very close to the screen without losing out on image size. It features a Bluetooth sound output so that any wireless speaker can be used directly without hassle.  
The projector includes LG's Smart TV software which makes it easy to use without extra fuss. It also supports screen sharing allowing you to display content from a compatible smartphone or tablet over a simple WiFi connection. In terms of portability, it features a slick handle enabling it to be carried easily and compactly once the top mirror is folded in. This is far from the cheapest projector you will find, but the feature set it offers will almost certainly make the price worth it.
Almost anything can become a screen with a wide variety of possible screen distances. The ability to quickly set up a high definition projector in virtually any location can be valuable as no one likes spending ages finding the perfect position. An additional benefit is the high light output, enabling a clear image in a wider array of ambient lighting conditions. Finally, it offers unique technology to increase the image's refresh rate, which makes viewing fast action on screen a much better experience.
Browse the LG Smart Projector on Amazon here!
iRobot Roomba s9+ Robot Vacuum
Roomba is a familiar name in the smart home industry, and for a good reason too! They have been creating robot vacuums for a long time and have had the chance to perfect any bugs that exist. Being the top model available it is as feature-packed as can be with a self-emptying internal bin, the ability to create clean and keep out zones, and many navigation capabilities. Additionally, if you also own the mopping robot, they can work together to clean the floor in the perfect sequence. 
Using WiFi, the robot can be connected and remotely configured using the mobile app. The app also includes a feature to clean up messes as soon as they occur by mapping specific objects allowing you to quickly identify where the mess is. The software will also learn what your cleaning habits are to offer more insight into customized schedules and when more cleaning may be required due to seasonal events. In terms of the corner cleaning capability, this vacuum is the only Roomba to offer a feature specifically designed for this purpose.
Browse the Roomba Robot vacuum on Amazon here!
Summary
In summary, there is no shortage of expensive IoT/smart home devices. You may have noticed that robots make up quite a substantial part of this list and there is a good reason for that. Although most smart home devices are continually going down in price, robots tend to be the exception as they have a lot of complicated parts that dramatically increase the cost. With any luck, these will eventually also come down in price such that cheaper options are viable budget solutions. 
There is also a lot of opportunity in the realm of coffee makers as the machine on this list was one of the only passable "smart" devices that are of decent quality. This seems to be especially true for espresso machines which are typically quite expensive as well but currently have limited smart functionality. Finally, it is essential to remember that the fact that a product is expensive does not mean it isn't a good purchase. Still, it does mean that it should be high quality and carefully evaluated before buying.